/Journal

---
Back in late March, 2022, I met with Australian Bass-Baritone Paull-Anthony Keightley to discuss ideas for our upcoming shoot together in Berlin.

Paull-Anthony is a chorus member at Staatsoper Unter den Linden and has a new music project together with colleagues Thomas Johnson, Jonathan Ware and Simone Easthope:

Vioro

The base of operations for Vioro's performance, mentoring and consultation work is Lobe Block, Gesundbrunnen, and it was hard for me not to be impressed by the sheer scale and visual weight of its architecture. As I walked through jagged corridors and scaled the M.C Escher-esque exterior of Lobe Block with Paull-Anthony, I immediately eyed potential spots for us to work in.

The building reminds me of the kind of clean, concrete designs you find in public spaces in Zürich, but Lobe Block has more of a haphazard 'Berlin' feel to it than just that. The chicken coop in the rear garden, the random piles of wood on the ground outside and the shimmering silver curtains on every window at Lobe Block give this place a scrambled and yet harmonious quality.

It was the right setting for our work together.

Paull-Anthony explained that, in the shots, the group should look "approachable, fresh and not too staged". His inspiration was 90s fashion and editorial photography from New York - the kind of candid, energetic and bold model shots from Vogue that now get regurgitated on social media to match current trends. I could see why he was into that look, and why it resonated with his vision for Vioro.

They are a group of young, business-minded musicians daring to try something bold.

︎︎︎
Vioro
Rob Atkinson (music alias: Raised by Puritans) demonstrates a cool and seemingly effortless ability to transcend genre-defined boundaries in music. His tracks guide you along a route of shifting textures, where harmonic exploration, lyricism and steady beats weave into one another to form something really special.
Finding the right location for my shoot with Rob was important. We wanted to match image and sound, and this can sometimes prove challenging.
Rob's visual references for the shoot played a huge role in us deciding how things would eventually go down during the session. We chose to shoot at night - having decided on an eerie, murky look - and from the outset Rob had a clear concept for how he would dress, look and present himself:
Monotone clothes, leather jacket, hollowed-out make-up, deadpan expression.
No frills or pretence. Merely the core thing executed with precision.
Just like Rob's music.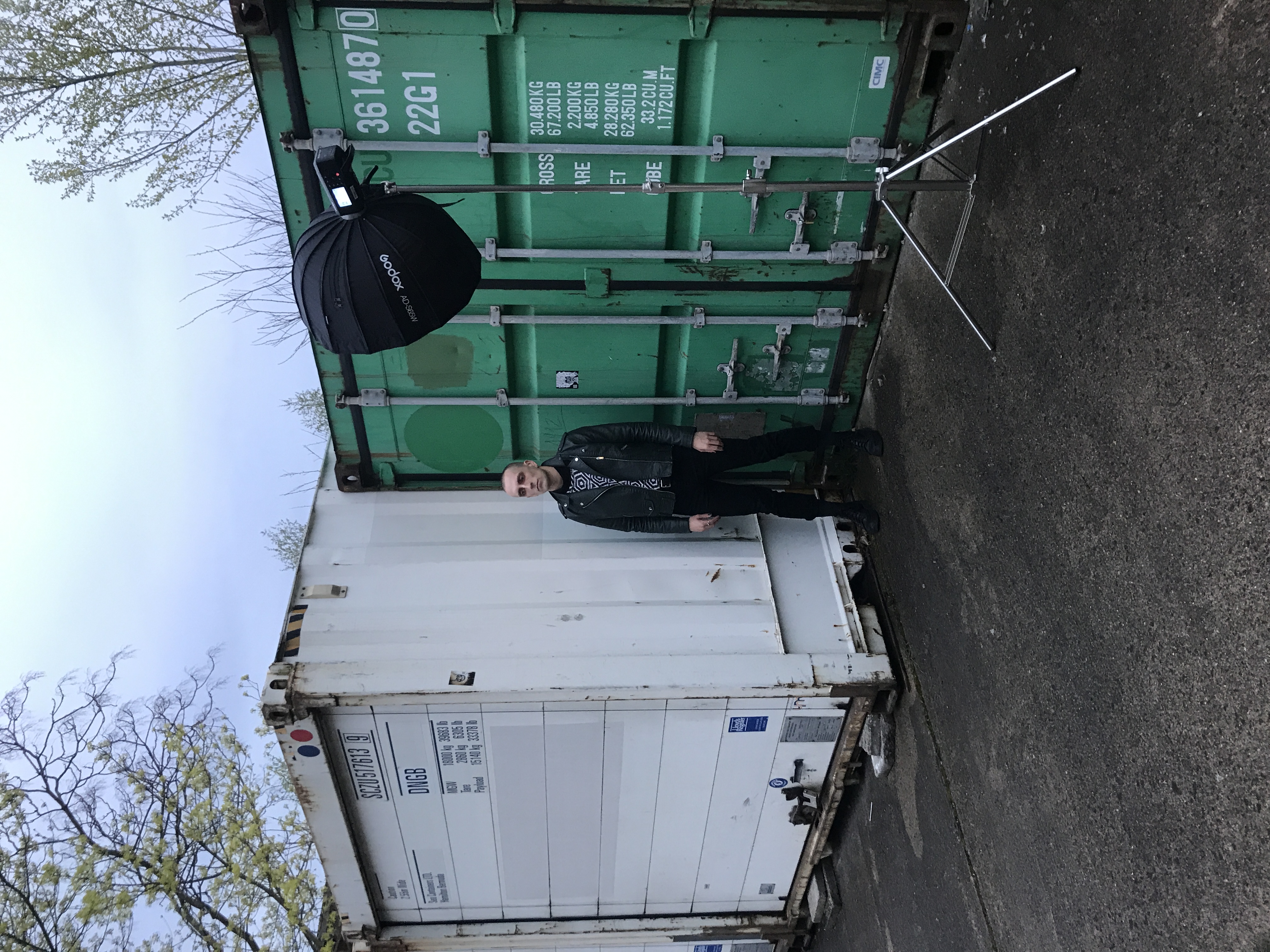 Back in September 2020, during the first COVID-19 lockdown in Berlin, I met with Flossie Marriott and Nico Bonadio outside a cafe in Kreuzberg one afternoon to look through their moodboard.

They had formed a band:

Parlous State

The Berlin-based duo infuse elements of Dream Pop, 80s Dance and Avant-garde music into their songs to create a sound vaguely reminiscent of each genre and yet entirely their own. Unsurprisingly, they had a clear vision for how their promotional shots would look.

"Imagine the aftermath of a house party gone wrong", Nico commented.

And so that's where we started.

Looking through the moodboard the pair had worked on, it was evident that Flossie and Nico had a distinct scene in mind. We would need to find a weathered and yet elegant space - somewhere that looked forgotten but previously loved. It should be dark and dusty, and decorated with the remnants of a ball or party - discarded paper plates, half-eaten cake, empty bottles, and party streamers trodden into the carpet.

The kind of room that Miss Havisham would sit and wait in (if she had ever had her party).

This project sticks out for me because it involved so much more than just photography work from my side. It required a good deal of set design, of course, which equated to sourcing props and costumes, as well as scouting for locations - elements I rarely get involved in but secretly enjoy.

It's one of the best feelings to not only match the moodboard of a client but to go above and beyond it. I think I achieved that with my shoot for Parlous State.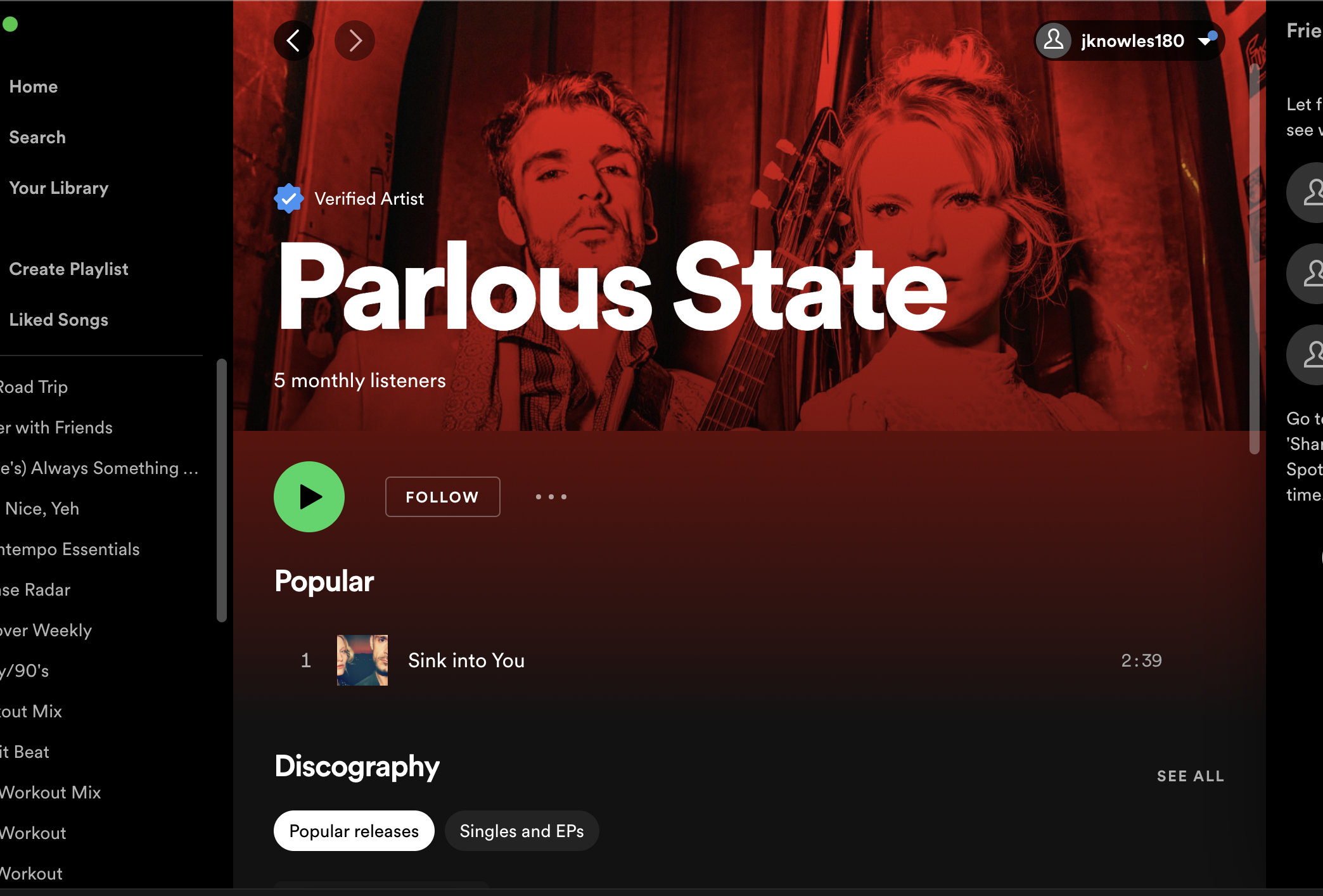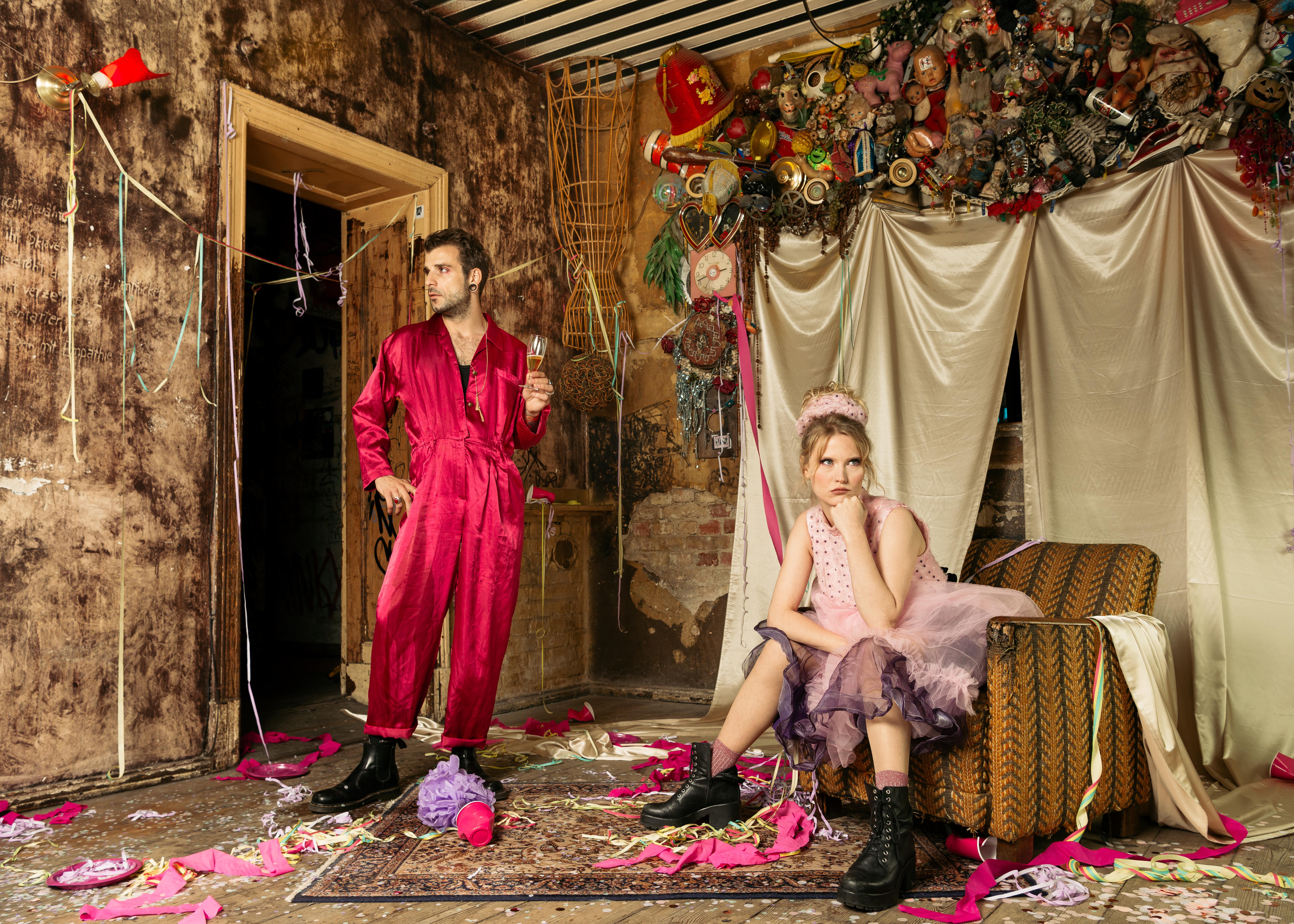 ---
04. Wilda Wolf
Editorial
KEYI Magazine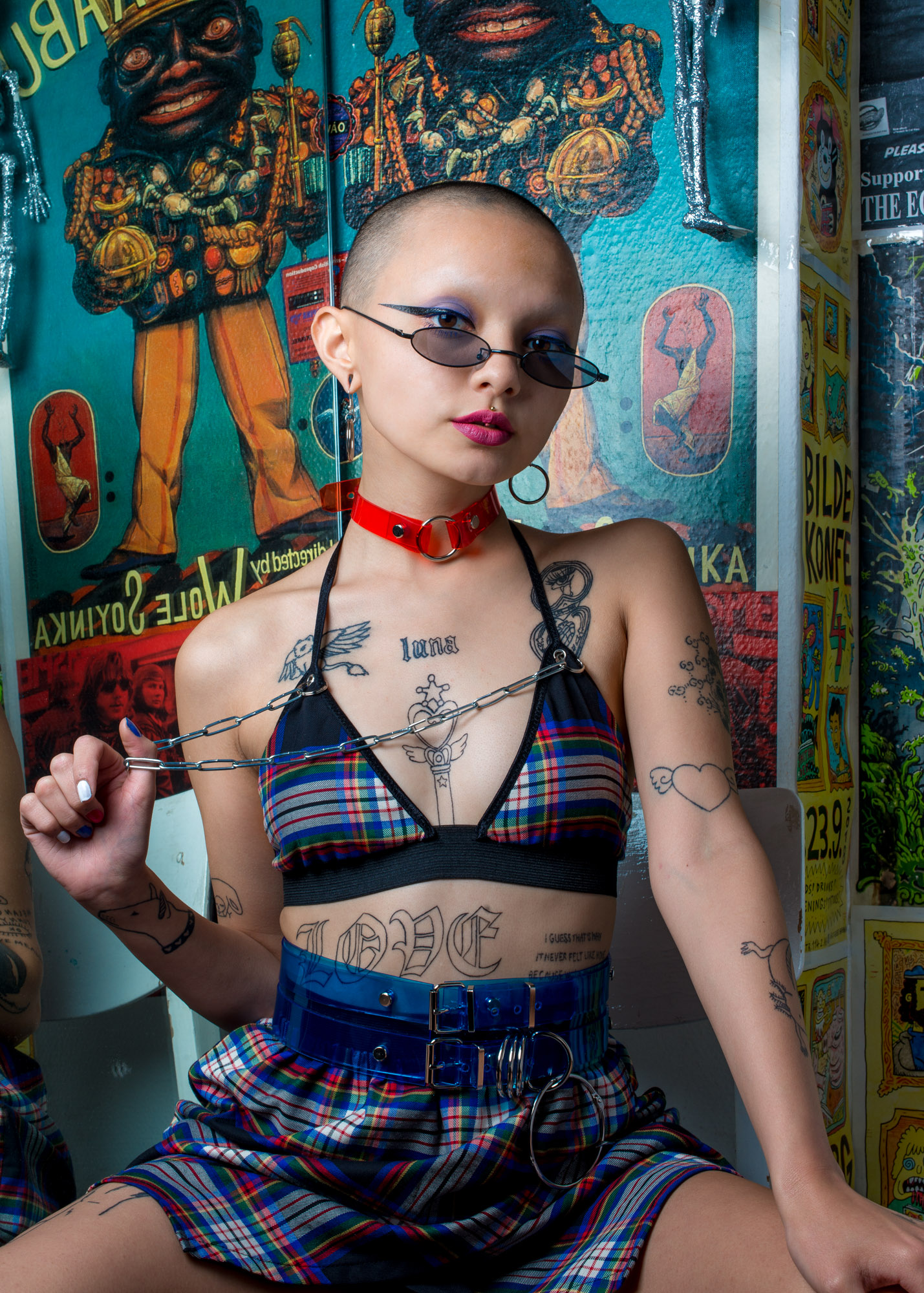 05. Sasha Louise
Fashion Shoot
KALTBLUT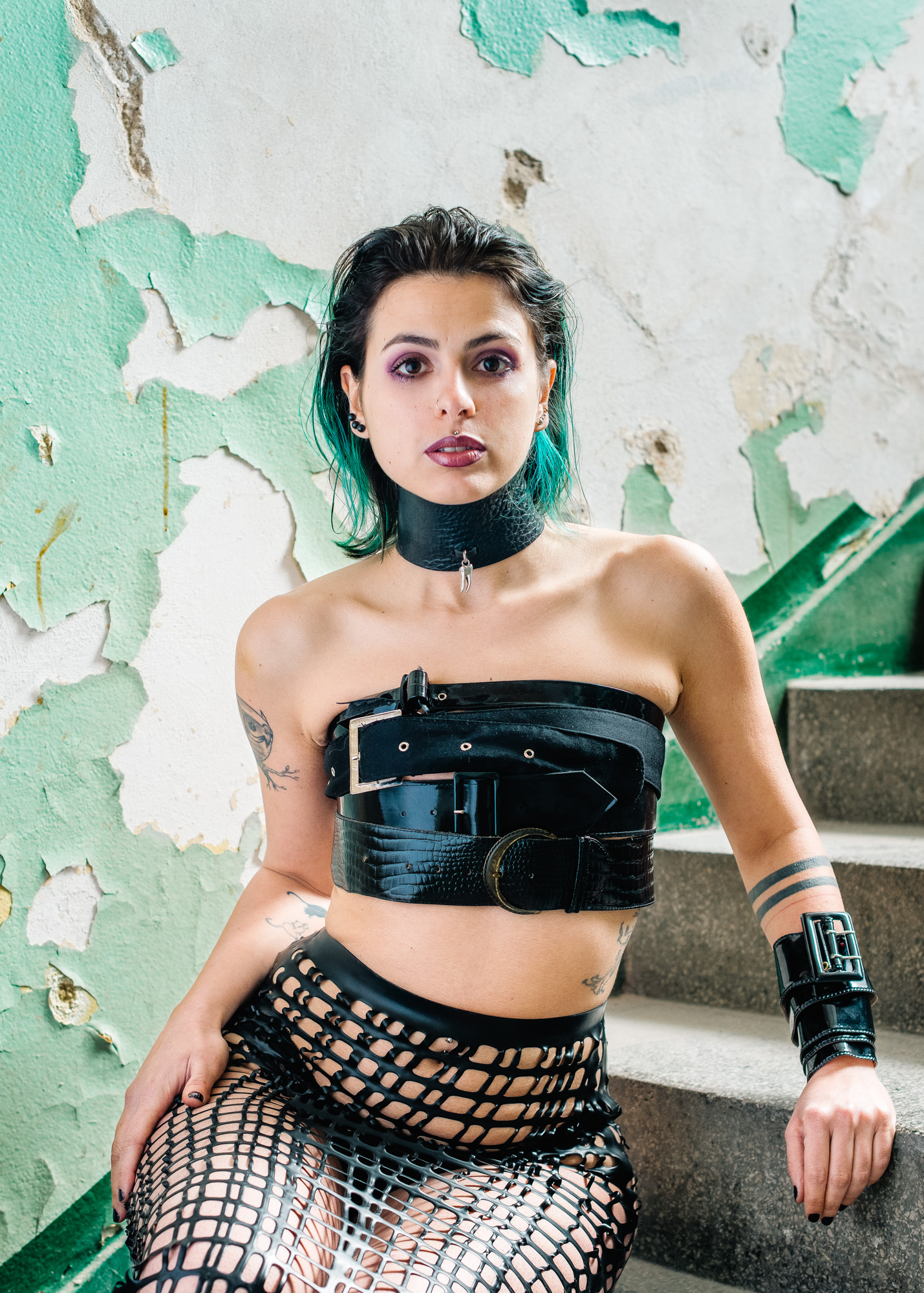 06. Lala Berlin

Fashion Shoot

FLUR Magazine
---
It's not so often that my visual art and freelance photography worlds cross paths but, when it happens, I'm pretty happy...
(Sorry)
This was the case for my two-day shoot in January 2023 for Soazic Guezennec, who is the creative brainchild behind Happy Tourists. This project aims to encourage people to get lost - literally, physically. In any other kind of way you can think of, honestly.
How and in what way, you may ask, can an art project in public space get people lost? Let's take a look at the instructions.
Happy Tourists uses a game format to shake things up. Participants are encouraged to rediscover the urban environment (or, at least to approach it in a different way) using prompts. Cards created by the French artist give a wide range of instructions: 'Walk on water', 'Start a revolution', 'Bring back an example of an endemic species'. With sometimes clear and at other times utterly abstract orders to follow, participants of Happy Tourists seek out, in groups, the strange, the funny, and even the downright boring and ordinary within the city's peripheries. Their challenge, hidden in the subtext? To see and be seen in between the well-trodden paths of the everyday.
There's a spirit of defiance and adventure at the heart of this project that speaks to me strongly. It says:
"Don't stop viewing the city as a completely absurd and uncontrollable experiment."
At the bottom of a narrow country road in Biesenthal, Brandenburg, lies a unexpected feature in the landscape: Wehrmühle, which is home to Art Biesenthal every July. But depending upon which side you approach Wehrmühle, you might be convinced it is either a rural villa or a modern art gallery.

Actually, it's both.

Like many old buildings in Germany, Wehrmühle has a history speckled with war and expropriation. It was built in 1870 but was later converted into a villa by a Jewish entrepreneur in 1907. During the Third Reich it was transferred to a German family and then covered under a huge camourflage net so the Wehrmacht could repair vehicles nearby. During the time of the DDR, the building was converted into smaller apartments and the grounds were used to breed horses.

Today, Wehrmühle has a new life as a centre of the arts outisde of Berlin. Its re-design, which started in 2003, kept in tact the stucco façade of the 1907 conversion. But from the north side of the property, Wehrmühle is completely renovated. A clean, white exterior and massive glass windows overlook the gardens. Its architecture is a hybrid; combining the history of the original building with fresh, modern design.

This characteristic makes Wehrmühle an apt setting for Tim Seifert's social event series, The Conscious Supper Club, in which a mix of unexpected people, not styles, come together to make something equally refreshing. Tim is a career and life coach based in Berlin. His concept is simple but meaningful: to connect people who might not typically cross paths in the city.

At The Conscious Supper Club, guests are encouraged to dig deeper when engaging in conversation, and to go beyond the kind of surface-level interactions that routinely occur at social events. Here, Tim applies equally his knowledge of coaching and his natural people skills. His task is to bring people together and to encourage openness.
In June 2022, I was invited to shoot for UX&I GmbH at UX Camp Europe, which is held annually at Humboldt-Universität zu Berlin in Adlershof.
Actually, UX Camp Europe
was
previously held annually at Humboldt-Universität zu Berlin in Adlershof, except that in 2020 and 2021, due to pretty realistic health concerns over holding large-scale public events, it had to be cancelled. And so, in 2022, UX professionals from across Germany (and the world) travelled to Berlin, having waited over two years to do so.
As you can imagine, there was an unignorable excitement in the air.
Each day at UX Camp was structured similarly. First, in the morning, everyone gathered in the large lecture hall to pitch workshops they would host that day. A show of hands from the audience indicated how much space was needed for each workshop (a small show of hands equalled a regular classroom - a flourish of hands equalled a lecture hall). The workshops were then categorised, assigned a time and location, and integrated into the schedule for the day. Topics ranging from soil depletion to mental health were pitched to the crowd. No subject matter, or person, was unwelcome.
There was also no hierarchy to be found at UX Camp. Everyone was both teacher and student, simultaneously. And perhaps because of this quality, or perhaps because some guests had waited two years to attend the event, there was an acknowledged feeling across the weekend of equality, respect and gratitude.
It was such a pleasure to be present at UX Camp Europe this year and to document the many workshops, lectures and interactions I saw. For the participants of the camp, the waiting period of over two years was over. They were finally able to re-connect, share and learn once more.